Women's reproductive health must be a priority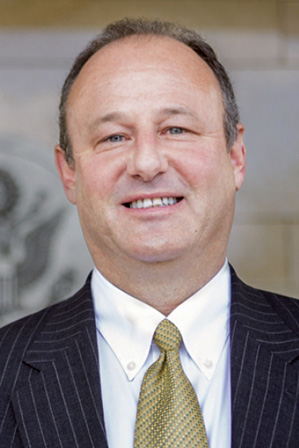 Opinion of the President
BY ERIC RUBIN
I have written and spoken many times of a growing sense that obstacles, hardships and challenges are making it increasingly difficult for many of our dedicated and talented colleagues to remain in the Service and continue to serve our country in as the first line of defense at home and abroad. .
Serving has never been easy, and the field service has never asked for it to be so. In fact, what we hear more and more from our members is their hope that they will be allowed to take more reasonable and pragmatic risks in their efforts to effectively serve and accomplish the mission they have undertaken for our country.
Our colleagues need to know that someone has their back when they serve overseas on difficult and sometimes dangerous assignments and that someone understands what it is like to meet the challenges of service. That "someone" must be the US government agencies that employ members of the Foreign Service: their leaders and our colleagues who provide support and protection.
It is therefore with great concern and, frankly, sadness that The Foreign Service Journal published a Speaking Out column in May by an active duty member representing more than 200 foreign service officers who signed a letter calling on the State Department to provide equal access to essential reproductive health services for women overseas .
The letter and column detail examples of State Department failures to help employees dealing with medical emergencies, from one person "suffering from a near-fatal ectopic pregnancy" to another "suffering from a miscarriage in one of the most polluted stations in the world". Another FSO, serving in a country where abortion is illegal, was "referred by the medical unit to local illegal providers."
The authors say that the State Medical Services Office "actively and repeatedly forced patients into impossible decisions and significant financial burden, and put them in life-threatening situations." They state, "Diplomats representing America in countries around the world are denied access to the same services that are legal and readily available in the country we represent and are told, 'You are on your own.' We won't put up with this any longer."
It was also very disturbing that the more than 200 members who signed the letter to state leaders did not receive a courtesy response for more than four months – in fact, not before we sent an advance copy to State MED and published column.
AFSA does not get involved in political matters. We acknowledge that our agencies are bound by the restrictions of the Hyde Amendment (prohibiting the use of federal funds to pay for abortion, except in certain circumstances) and other applicable laws. However, we expect our agencies to do everything possible within the law to support, protect and care for colleagues facing health problems and dangers.
The MED State has promised a quick review of the situation and improvements in areas that can be dealt with under the law. It's good, but late. When over 200 colleagues write to the management of our agencies expressing their anguish and concern and asking for a change in the way they are treated, there is clearly a problem that needs to be addressed.
FS members serving in developed countries with excellent health care can turn to local resources for care, unlike members serving in countries without adequate medical services. They all need to know that our government is protecting them and helping them get the care they need.
Money cannot be an excuse. Women's health is a human right and a foreign service right. "In the Biden-Harris administration, the empowerment and protection of women and girls, including the promotion of their sexual and reproductive health and rights, is a central element of the foreign policy and national security of the United States," US Secretary of State Antony Blinken said in a statement. during the administration's first week in office in 2021.
We expect the Biden administration to live up to its public commitments and the law, and to care for our colleagues who put their lives and health on the line in service to our country.