Six gifts Queen Elizabeth II received from leaders of the Arab world | THE DAILY TRIBUNE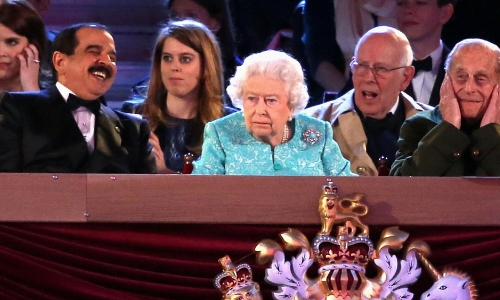 Agencies | dubai
The Daily Tribune – www.newsofbahrain.com
HM King Hamad bin Isa Al Khalifa, King of Bahrain
HM King Hamad bin Isa Al Khalifa, King of Bahrain, presented Elizabeth with two purebred Arabian horses at the 2013 Royal Windsor Horse Show.
The Queen received two Bahraini Arabs, in recognition of her efforts to promote Bahraini-British relations and strengthen deep-rooted historical cooperation.
The famous Bahraini-bred Arabian horses, rarely found outside the kingdom, were preserved for years by Bahrain's rulers, the Al Khalifa dynasty.
His Highness Sheikh Nasser bin Hamad Al Khalifa presented the Queen with the royal team's gift of a model horse-drawn carriage, driven by Arabian horses, as well as an artwork depicting Sheikh Salman and the forts of Windsor connected by a genuine Bahraini sword.
Sultan Qaboos (Oman)
In 2010, the former ruler of Oman, Sultan Qaboos bin Said, presented the Queen with a 12-inch vase engraved in 21-karat gold and a gold Fabergé egg that opened to reveal a small horse in stuffed toy.
Sheikh Khalifa (Qatar)
In 1985, Qatar's then-ruler, Sheikh Khalifa bin Hamad AlThani, presented the queen with a diamond necklace with a centerpiece of two large rubies.
Sheikh Rashid (Dubai)
In 1979, Sheikh Rashid bin Saeed Al-Maktoum, ruler of Dubai at the time, presented Elizabeth with diamond and sapphire jewelry, a solid gold sculpture of a camel and two palm trees.
King Faisal (Saudi Arabia)
In 1967, King Faisal of Saudi Arabia presented the British monarch with a necklace of 300 diamonds, including baguettes and brilliants, weighing over 80 carats.
King Farouk (Egypt)
Egypt's King Farouk presented the Queen with a gold necklace in 1947 that dated back to the 3rd century and incorporated one of the earliest Egyptian coins.
Queen Elizabeth II and Isa bin Salman Al Khalifa (1933-1999), the Emir of Bahrain, exchanged gifts at Gudaibiya Palace, as part of the Queen's tour of the Gulf States in 1979 (credits: Albawaba)
Queen Elizabeth II with Isa bin Salman Al Khalifa (L), the Emir of Bahrain and HM King Hamad bin Isa Al Khalifa (R)
His Majesty King Hamad bin Isa Al Khalifa (left) and Queen Elizabeth II attend the Royal Windsor Horse Show endurance event at Windsor Great Park