Prince Bandar hands out prizes to winners of Kahila Horse Championship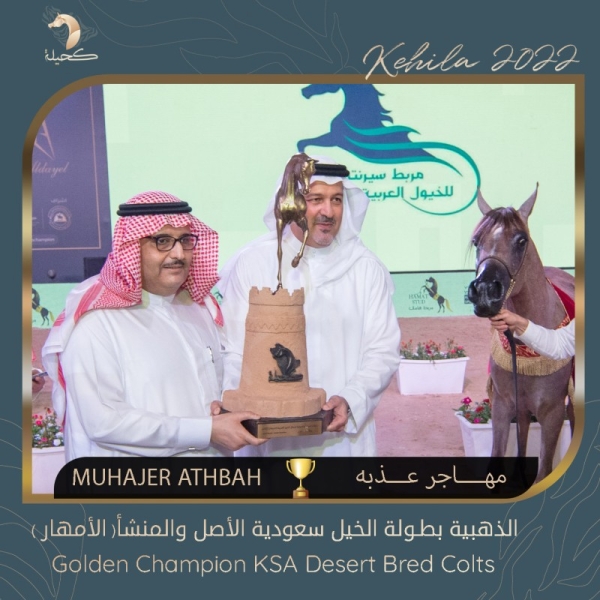 Saudi Gazette report
RIYADH — Prince Bandar Bin Khalid Al-Faisal, chairman of the board of directors of the Equestrian Authority and the Horse Racing Club, presided over the closing session of the second edition of the Kingdom's International Championship for the Beauty of the Arabian Horse of Purebred (Kahila) and the Egyptian Horses here on Sunday evenings.
The five-day event was held under the supervision of the King Abdulaziz Center for Purebred Arabian Horses at the Riyadh Front Exhibitions and Convention Center.
Prince Bandar distributed prizes to the winners of the championship. He also honored the participants, the championship sponsors and the members of the refereeing and disciplinary committees.
The winners included the separate championship categories for purebred Arabian horses such as the Fillies Championship, Mare Championship, Colts Championship, Purebred Arabian Horse of Saudi Arabia Championship and Stallion Championship.
Abdulaziz Al-Moqbel, the center's general manager, thanked and appreciated Prince Bandar for the great and unlimited support he has given to horse championships of all kinds, including his honor and sponsorship of the Kahila championship, and his financial support amounting to SR200,000 to the winners of the Purebred Arabian horses of Saudi origin.
He also commended the constant attention and monitoring of the Minister of Environment, Water and Agriculture Abdulrahman Al Fadley, who is also Chairman of the Board of the King Abdulaziz Center for Purebred Arabian Horses, saying that this has contributed significantly to the development of these tournaments.
Al-Muqbil said in a statement that this year's championship saw the participation of more than 511 purebred Arabian horses from different countries around the world and that this is the highest number of horses participating in the international championships in the kingdom.
He also commended the efforts made by the organizing committee to ensure the success of the tournament and its continuity over the next few years.
The championship was organized to showcase pride in the history and heritage of purebred Arabian horses. He highlighted the importance of this ancient sport and the Kingdom's efforts to advance it in local and international forums.
The championship is considered to be one of the most important Arabian horse championships in the region, which came in honor of King Abdulaziz's horse and the best gifts he had presented to the kings of the world, such as the magnificent Arabian Steed called Kahila. which he presented to King George VI on the occasion of his coronation as King of the United Kingdom, and the gift to the Queen of the Netherlands.