Jocelyne Pelletier | paNOW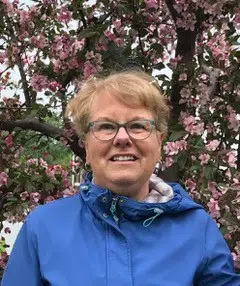 New
Posted on June 20, 2022 | 7:23 p.m.
Jocelyne (Begrand) Pelletier, 71, of Duck Lake, passed away peacefully on June 18e, 2022, surrounded by his family. Jocelyne was born on February 13e, 1951 to Henri and Rita (LeFrançois) Begrand of St. Louis, SK – the second of their three children. Jocelyne grew up on the family farm west of St. Louis and attended school in town and at the Prince Albert Institute. It was in her early years that she developed a fondness for caring for animals, especially horses. During her high school years, Jocelyne met Edwin Pelletier of Duck Lake who would become her husband on October 9.e1970. Jocelyne and Edwin then made a living taking over the Pelletier family farm a few miles north of Duck Lake, raising purebred Charolais cattle and growing grain.
In 1975 Jocelyne and Eddy welcomed their first chosen son Greg, and a few years later in 1977 they welcomed their second chosen son Richard. Life on the farm was a great education for the whole family. One of her most heartfelt roles was being Grandma for her grandsons Cael and Bennett. She spoiled them and showered them with love until her last moments.
Jocelyne had a passion for music. She has played multiple instruments (piano, organ, and violin) and performed with many groups over the years, including the music ministry at Blessed Sacrament Parish in Duck Lake. She loved to garden and her flowers brought her joy as they bloomed every year. Her cats, dogs and farm animals (miniature horses and donkeys) have always held a special place in her heart.
Jocelyne was active in the community and served as a school board member and school division commissioner for several years. Jocelyne focused on her boys' education and encouraged them to pursue post-secondary education. Jocelyne has served on numerous boards of directors and has served the greater community.
Jocelyne is survived by her beloved husband Edwin, her eldest son Greg (Carrie, and her grandsons Cael and Bennett), her son Richie (Crystal), her sister Pierrette (Ronald) Pelletier, her brother Roger (Diane) Begrand, and many beloved in -laws, nieces, nephews and godchildren.
Jocelyne will be greatly missed by her family, friends and all who knew her.
The family would like to express their sincere gratitude to the nursing staff at the Royal University Hospital in Saskatoon for the excellent and compassionate care they provided to Jocelyne.
The funeral is scheduled for 11:00 a.m. on Thursday, June 23.rd at the Church of the Blessed Sacrament in Duck Lake.
In honor of Jocelyne, donations can be made to the Saskatchewan Valley Hospital Foundation Inc. (Box 93, Rosthern, SK S0K 3R0) or to the Sanctuaire St-Laurent (Box 368 Duck Lake, SK S0K 1J0) or to the Heart & Stroke Foundation (heartandstroke .California).