How Shanghai scientists are coping with the harsh COVID lockdown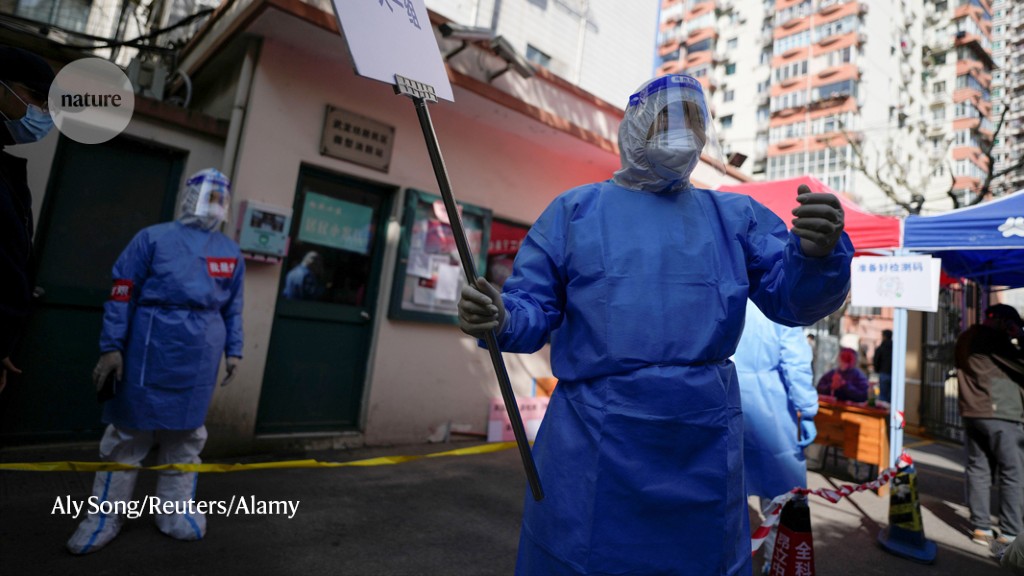 As the highly contagious variant of Omicron rages in parts of China, Shanghai, the country's financial hub and home to many of its top research institutions, was plunged into a sweeping lockdown earlier this month. While restrictions look set to continue, shortages of food and other supplies are making life difficult for many locals, including many researchers and scientists.
China is one of the few countries still trying to quell COVID-19 outbreaks. So when daily cases in Shanghai rose sharply – more than 280,000 people in the city have tested positive since March – authorities ordered its 25 million people to stay at home from April 1. The city has also suspended all public transportation, moved schools online and closed businesses.
With cases continuing to rise, the lockdown was extended, catching many residents off guard. In some places people struggle to access health care. Public anger at the government's handling of the situation has also increased.
Nature spoke with four researchers about what it's like to live and work in the city.
Lose a year of data
As a conservation biologist at Fudan University, being stuck at home means Fang Wang can't conduct most of his research. Spring is the mating season for many animals studied by Wang. Before the lockdown, he had planned to visit the Qinling Mountains in northern China to study wild giant pandas (Ailuropoda melanoleuca qinlingensis), and the Liupan Mountains in northwest China to observe endangered North China leopards (panthera pardus orientalis). But he had to cancel the trips because of the Omicron outbreak. "For us, missing a season's data is like losing a year's worth of data," he says. Wang hopes to make the field visits later this year.
Without access to his university campus, Wang and his team cannot analyze previously collected animal samples. Wang says the impact is manageable for him, but he worries about his students, whose theses are based on the data from these scans.
"Over the past two years, our students have been under enormous pressure and faced great uncertainty about their future. As a teacher, I worry that such uncertainty will cause my students to prioritize stability over what they actually want to pursue when choosing a career," he says.
With Shanghai on hold, Wang also found himself overwhelmed with new responsibilities. In addition to conducting research and mentoring his students, he has to take care of his young child, who is also locked up at home, and help him cook. He also has to look for ways to get groceries, which are hard to find because residents aren't allowed to leave their homes, so the entire population of the city relies on a limited number of delivery people to bring necessities to their homes. their doors. "I feel really tired and stretched," he says.
3000 steps per day, at home
Before the lockdown, Jiahong Wen, a natural disaster modeler at Shanghai Normal University, had planned to conduct field research in nearby Linhai, a city that was hit by a catastrophic typhoon in 2019. But Wen had to abandoning his trip when the government announced that Shanghai residents could not leave their homes.
Wen can do most of his other work on his laptop at home. To stay fit, he exercises, including lifting weights. Sometimes he walks around his apartment. "Every day, I take about 3,000 steps, walking around my house dozens of times. I also told my students to do this, to keep them healthy," he says.
In 2020, Wen worked on pandemic modeling. Given the scale of Shanghai's current outbreak and the city's strict restrictions, he believes COVID-19 cases will start to decline and the city will return to normal as early as May. But he is worried about his daughter, who is due to take the extremely competitive Chinese university entrance exam in June. "Omicron seems to be very stealthy and cases have popped up unexpectedly. I don't want anything to happen to my daughter that will affect her exam.
Travel Restrictions
"I consider myself extremely lucky, as our institute's administration and logistics staff there did their best to keep us safe and fed," says Xian Shi, an astronomer at the Shanghai Astronomical Observatory who also lives on the campus of his institute in central Shanghai. . The lockdown hasn't had a huge impact on her research – she studies small objects, such as asteroids, in the solar system – as she has been working from home for the last two years of the pandemic. But Shi had to cancel a long-planned trip to give a lecture and meet with his collaborators in a nearby town.
"I expected the lockdown probably wouldn't end as planned, given the highly infectious variant and the strict criteria for opening," she says. As a result, she brought her laptops and hard drives home ahead of time, along with plenty of coffee.
Shi worries that China's strict travel restrictions will make it harder to attend international conferences and meet colleagues in other parts of the world.
A huge social experience
For Jia Miao, a sociologist at New York University in Shanghai, the current lockdown is like seeing the focus of her past research unfold before her. She studied community resilience during the 2020 Wuhan lockdown, where SARS-CoV-2 was first detected. Now she is experiencing confinement first-hand, which has given her ideas for future research. "Although the lockdown is a misfortune for the city, for us sociologists it is a huge social experiment. It will give us plenty of opportunities to study a variety of issues that arise.
Her university gave staff and students a day's notice before closing, so Miao had time to collect her laptop and gather the data she needed to work from home. "Personally, I'm fine." But the lockdown has forced her to postpone field trips, both for her own research and for the undergraduate courses she teaches. "I hope there will be one last chance before the end of term to take my students on a field trip."
Miao teaches an urban sociology course that covers topics such as the role of the community in a pandemic. "After this outbreak, my students will have a new perspective when looking at communities, and they can bring their personal experience and insights to the classroom," she says.