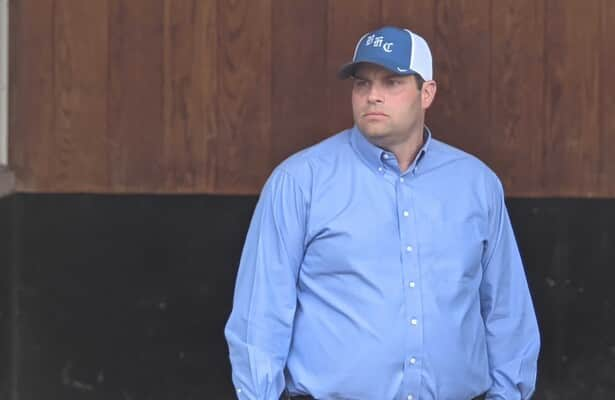 As we move into the second half of November, with just over six weeks left in the year, the well-behaved 2-year-olds continue to make their debut at racetracks across the country with frequency.
Let's highlight five of the most exciting new arrivals in entries this week:
Friday, November 19
Churchill Downs Race 7: Maiden Special Weight (Seven Stages, 4:06 PM EST)
No. 10 Rocket Dawg
Pedigree: Classic Empire – Rever de Vous, by Distorted Humor
Purchase price: $ 375,000
Coach: Brad Cox
Son of the juvenile champion Classic Empire (who breeds 28% of rookie winners), Rocket Dawg hails from the barn of Eclipse Award-winning trainer Brad Cox. While Cox's generally high winning percentage drops to "only" 15% with rookies (since 2020), Rocket Dawg's workouts, including five stages in 1: 00.4 seconds at Churchill Downs last month, suggest that Rocket Dawg can produce a solid performance in his first run under the colors.
Indeed, there are a lot of positive signs for Rocket Dawg. Dam Rever de Vous was a young first-time winner who bet on January 1 of her second season, and as a broodmare she yielded three winners out of three starters. Add in jockey Florent Geroux (a 22% winner when working with Cox over the past two months), and Rocket Dawg deserves great respect.
Saturday 20 November

Aqueduct Race 7: Maiden Special Weight (seven stages, 2:43 p.m.)
N ° 10 Never change
Pedigree: Uncle Mo – Danette, by Curlin
Purchase price: Not available
Coach: Todd Pletcher
The first of two foals trained by Todd Pletcher entered in this first scorecard for juveniles, Never Change is a son of juvenile champion and successful sire Uncle Mo de Danette, a two-time horse of the year daughter and remarkable curlin endurance influence. Danette was good enough to place third in the Candlestick as a juvenile, so Never Change has the pedigree of being the Kentucky Derby type anyway.
Never Change put up a long job at Belmont Park in preparation for its debut, peaking five stages from the starting gate in 1: 01.8 seconds. The homebred Repole Stable is worth watching, and a win on Saturday could potentially launch it on the Triple Crown trail.
N ° 13 Outperform
Pedigree: Gun Runner – Terrific Treasure, by Street Cry
Purchase price: Not available
Coach: Todd Pletcher
Pletcher's second intern is also on the list of eligible candidates, but if a scratch gets him started, he'll be a key contender for victory. Son of the sexy young stallion Gun Runner (who breeds 32% beginner winners), Outperform was bred by mare Street Cry Terrific Treasure, giving Outperform a pedigree focused on success over classic distances.
Hailing from Repole Stable, Outperform organized specific workouts in Saratoga and Belmont. Several of his breezes were bullet holes, including five stages from the starting gate of Belmont in 1: 00.2 seconds last Saturday. Throw in the presence of hot jockey Irad Ortiz (a 30% winner at Aqueduct this competition), and Outperform looks set for a competitive effort from its debut.
Churchill Downs Race 7: Maiden Special Weight (1 1/16 miles, 4:06 p.m.)
N ° 5 Crete
Pedigree: Medaglia d'Oro – Cavorting, by Bernardini
Purchase price: Not available
Trainer: Steve Asmussen
Speaking of a well-bred filly, La Crete is a daughter of multiple Grade 1 winner and elite stallion Medaglia d'Oro from mare Bernardini Cavorting, triple Grade 1 winner over distances ranging from seven stages to 1 1/8 miles. And in case you forgot, Clairière, Cavorting's first foal, won the Cotillion (G1) a few months ago.
With this endurance-oriented pedigree, it's easy to see why Crete starts its career on 1 1/16 miles. Steve Asmussen isn't a frequent winner with horses making their debut on the roads (only hitting a nine percent rate), but trendy jockey Joel Rosario is slated to ride homebred Stonestreet Stables, suggesting that Crete is held in high regard. Take note that Rosario and Asmussen have teamed up 5 for 15 (33%) over the past two months.
Churchill Downs Race 11: Maiden Special Weight (seven stages, 6:06 p.m.)
# 4 run the faucet
Pedigree: Gun Runner – Hightap, by Tapit
Purchase price: $ 210,000
Coach: Kenny McPeek
Hailing from the barn of super trainer Kenny McPeek, Run the Tap is bred to be an elite racehorse. Sire Gun Runner is off to a great start at stud (generating 32% rookie winners as mentioned earlier), while Dam Hightap (a double Grade 3 winner) has already gained fame as the dam of Fourstardave Handicap ( G1) Halladay winner.
Run the Tap might need some running experience before it finds its best stride, given that McPeek only earns a 6% rate with beginners. But once she has a run or two under her belt, watch out: Run the Tap has the pedigree to become a contender with the Kentucky Oaks.