Hillen Lands Dirty-Topping Filly in Goresbridge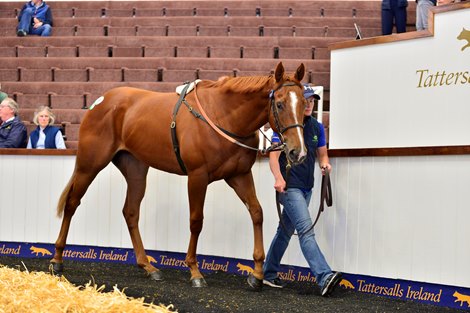 The last time Stephen Hillen bought a top-selling chestnut filly from Katie Walsh's Greenhills Farm at the Tattersalls Ireland Goresbridge Breeze-Up sale, his purchase turned out to be East, who won the Thomas Byron Prize ( G3) and finished third in the Poule d'essai des Pouliches (G1).
Agent hopes lightning strikes twice more than four years after buying East for €315,000 (US$333,235), he went back to the same source for another chestnut filly and Hillen was so determined to get the first daughter of saxon warrior that it broke the auction's record price, just as it did on the last occasion when the auction was held in Goresbridge on May 19.
Hillen of her €520,000 ($550,373) purchase, which will go to training with Kevin Ryan: "She's a different kind of filly to East but she reminded me of her in the way she blows, it's was almost weird. She's bred to stay at least a mile, or a mile and a quarter, so she shouldn't have been able to do that on the pedigree."
She posted one of the fastest times of the day, and the effortless manner in which she raced through both stadiums at Fairyhouse on Wednesday morning caught the attention of everyone in attendance.
Hillen added: "I think the style of the breeze is important; it's the horses that gallop fast but don't look like they're going fast that are the only ones."
Register for BloodHorse Daily
The agent bought it for a new client, on whose behalf he attended the Arqana Breeze-Up Sale in Deauville last week, and gave a glimpse of what the immediate future holds for the sales head , who is also the most expensive filly. sold on the European breez-up circuit this spring.
"She will probably have a month off and then start galloping, but with the speed she showed yesterday, if she can do it for a mile it will be huge," he said.
"I hope she's a freak."
Half-sister to Surbett, third in the Italian Listed, the filly born in March is out of Giant's Causeway mare Causeway Queen, who is an unraced daughter of Ask for the Moon, winner of the Prix Saint-Alary (G1) of 2004.
Mare Dr Fong is the dam of Dee Stakes winner (G3) and third Cazoo Derby Astrology (G1) and Esher Stakes winner Sandro Botticelli, both sons of Galileo.
His filly Saxon Warrior was bred by James Hanly, who then sent her to Walsh to prepare for difficulties as her size and litter dampened her for yearling sales, consignor Walsh explained.
"I think she was growing and developing all the time last fall and she's a pretty big filly, so she's a filly that James decided not to sell as a yearling," he said. she declared.
Walsh felt his previous record sale was a factor in Hanly's decision to send the filly to him.
"I think he felt that because I had sold East at that sale and Goresbridge was always good to me, he just matched those two facts together," she said.
"And it worked for him! It was always planned to come to this sale with her; we thought she would stand out here, and she certainly did.
"She's fantastic, she's a gorgeous filly, a cute filly with a beautiful pedigree and she just filled everyone's eyes."
Although she was bred to excel far beyond the two furlongs of Wednesday's breeze, filly Saxon Warrior displayed speed to burn, as Hillen alluded to, and Walsh knew she had a special filly. in their hands long before they arrived at Fairyhouse.
"I think everyone was pretty surprised at how long she's had with the physique she is," she said. "I knew coming here that she was going to time well, I suspected that she was a tasty filly; she had done nothing but please me since I had her.
"She has always been a simple filly with a great canter stride and a great attitude.
"With these kind of fillies, it comes so naturally to them. It's just a different sauce. Whatever gallop you go, whatever distance you go, it's never been a problem for her, whether that either a gallop on the sand on a Monday morning, or a job, it was all so easy, and that's the difference."
It's no longer the one who got away
Fillies accounted for three of the four most expensive horses on Thursday, with Joe Foley finally getting his hands on the thunder night Gadwa's filly who had slipped through his fingers as a colt when she was sold by breeder Plantation Stud to Elton Lodge Stud for 72,000 guineas ($101,176).
Second foal of Heartlines, a daughter of brilliant broodmare sire Bernardini, winner at 3 in France, she has a solid American pedigree as a granddaughter of Arlington Oaks (G3) winner Marietta.
It was a huge return on investment that John Bourke predicted for her in book 3 last year, with the filly costing just 12,500 guineas ($17,948) when purchased from Houghton Bloodstock.
Brown also hit for a colt from the first crop of sioux nation , who made a torrid start to his stud career. The Blandford Bloodstock man secured the Folistown Farm colt from Mujadil mare Dorothy Parker for €130,000 ($137,555).
O'Callaghans excel once again
Tally-Ho Stud has consistently topped the list of sellers at this year's European sales and the O'Callaghan family have sold a Exceed and excel colt that broke the procession of fillies selling for more than €200,000 ($211,664).