Find homes for hard-to-adopt horses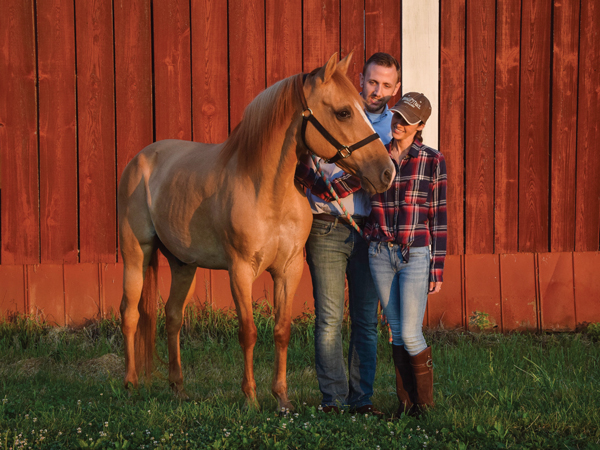 Audrey wasn't the most likely adoption candidate when she arrived at This Old Horse in Hastings, Minn. The 6-year-old Appaloosa mare had a newborn foal by her side and was full for 2020 when she joined the organization. . She was not only seriously neglected, she was also blind. Experts debated a prognosis for her recovery and quality of life. It was going to be difficult to find someone to adopt this horse.
And yet, at the end of 2020, Audrey's two healthy foals were adopted into loving homes, just like Audrey. The little blind mare found her place in the heart of one of the longtime volunteers who cared for her.
The path to 'happiness forever' may be a little more difficult for horses like Audrey, but innovative new programs are helping a number of horse adoption organizations find homes for hard-to-adopt horses. .
Online matchmaking
The Right Horse Initiative, a program of the American Society for Prevention of Cruelty to Animals (ASPCA), works to increase the number of horse adoptions through a nationwide network of partner organizations, including This Old Horse and over 30 others. The group's online adoption platform, MyRightHorse.org, helps bring adoptable horses to a wider audience, while the ASPCA Horse Adoption Express helps transfer horses between facilities to locations where there is has a greater demand or towards trainers who can work with the horses to make them. more adoptable.
"'Hard-to-adopt' horses often have to stay here longer for the right person to find them," says Amanda Mullen, manager of Longmeadow Rescue Ranch, a Right Horse partner organization in Union, Mo. "We found that we need to make sure to market this animal through social media, website listings, great photos and videos, and take them to local horse shows if possible. There is an owner for every horse, and our job is to put that horse in front of as many eyes as possible. "
Ozzie is a success story of Longmeadow Rescue Ranch which has received increased exposure through MyRightHorse.org. Cathie Chiccine and her sister were scouring the site in search of a horse for Cathie's sister. They filled out an application for Ozzie, a 13 year old gelding from Longmeadow Rescue Ranch, who had been there for several months waiting for his good match. Chiccine's sister ended up falling in love with a different horse from the website, but Chiccine decided she wanted to go ahead and meet Ozzie herself, as she had recently retired her versatile horse.
The Longmeadow Rescue Ranch coach briefed Chiccine on some of Ozzie's behaviors and management needs that made him best suited for an experienced rider. A rider for 30 years and a trainer for 20 years, Chiccine quickly fell in love with Ozzie and immediately recognized his potential.
As soon as she mounted it, she said they fit together perfectly. The coach and staff at Longmeadow noticed how relaxed Ozzie was with Chiccine. The pair have found success in mounted play competitions, where forward-thinking Ozzie has found the perfect job for his busy mind and occasional "pony zooms".
"Our biggest challenge is finding adoption homes with experienced bikers," says Mullen. "We find that a lot of people think they are experienced riders or maybe were at some point in their lives but haven't ridden for a very long time."
To remedy this, Longmeadow has created a riding lesson program that helps riders and horses gain experience, and Mullen reports that many students adopt Longmeadow horses.
Non-equestrian adopters
Redefining the market for potential adopters to be more inclusive increases the chances of placing a difficult horse to adopt even further.
"If we target riders as our only market for adopters, horses that cannot be ridden will never be adopted," says Nancy Turner, president and founder of This Old Horse. "But if we are targeting horse lovers – an endless audience – then all horses are adoptable. There are many ways to love horses, and riding them is just one.
By welcoming volunteers with no riding experience, This Old Horse has created a path that often leads to adoption. People come because they feel welcome, even though they've never been around horses before, says Turner. And as volunteers gain experience, horses attract them. With the education and support of the organization, they become enthusiastic about adopting a special horse of their own.
One of those volunteers who had no horse riding experience is Patrick Metzger, who adopted Gypsy, a blind mare over 30, who survived a life of abuse and neglect.
"I fell in love with her," Metzger says. "I was depressed when I first came here, and she really helped me. He is a lovely horse and helps me every time I go out. In my daily life, I think of Gypsy. I think about the way she's enduring, and it gives me the strength to keep going.
Astrid, a 10-year-old Norwegian fjord horse with a seizure disorder, has been adopted by the Teter family. They became volunteers at This Old Horse when their daughter Mara participated in the organization's 4-H Horseless Horse program.
"I don't think it matters that she has a seizure disorder," says Brenda Teter. "She is a horse that our whole family can share and love, and we've learned a lot about how to work with her and deal with crises. She has an excellent quality of life and the quality of life of our family has improved because of her.
When it comes to adopting small animals, no one is asked what they "do" with their pets, as Turner points out.
"It's understood it's a relationship," she said. "Our adopters are as original, unstable and imperfect as our horses, and we are creating a community based on kindness and compassion."
Prepare to become a homeowner
Companion equines offer great opportunities to learn about horses outside of the traditional path of lessons, riding and shows, paving the way for horse enthusiasts to become horse owners.
The Kentucky Equine Adoption Center (KyEAC) in Nicholasville, Ky., Is another Right Horse partner that welcomes new people to the horse world. They recently launched an eight week educational program called Support a Special Horse (SASH) for people who want to become horse owners. Participants work with KyEAC's companion horses and learn the basics of preparing for horse ownership: how to halter and lead a horse, care and nutrition, and what you need to have a horse. horse on your own property.
Thanks to this program, KyEAC has already seen success for the hard-to-place horse. Katie Blair and Michael Schmitt adopted an older Quarter Horse gelding named Butternut who had seriously sunk and was taking medication daily.
"Through the SASH program he has found a couple to adopt him, and he's gone to a new home where he is cared for and loved and has a new goal of being a friend to this family," Kelli said. Sorg, director of development. at KyEAC. "They didn't start out as owners of horses, but they always wanted to be."
Sorg believes that horses that don't ride are great at bonding, perhaps because they don't have the stress of being in traditional work or training. One of the reasons she started the SASH program at KyEAC was to help people interested in adopting a companion horse gain acceptance into the equestrian community, especially since most boarding schools focus on l exhibition or horseback riding. She wants people to know that there is nothing wrong with spending time with her horse, doing deep work and obstacles or playing games.
"It takes a change in the horse world itself not to see it as a setback," Sorg explains. "There is as much value in being nose to nose as riding on the back of a horse."
Perfect traders
Turner believes providing access is what makes the biggest difference for hard-to-place horses so potential adopters can get to know them. They don't have to be the perfect horse to be the perfect horse for you, she says.
"For an old, blind horse who needs medication, that's not really a selling point! Turner acknowledges. "But if we give horses access, they are doing their own marketing just by being wonderful. When you see them and work with them and volunteer with them, they become so endearing. There is an old adage: "Give a horse its head and it will find its way home." We create a space for that to happen, and the horses do the rest.
This article on difficult horses to adopt appeared in the October 2021 issue of Illustrated horse magazine. Click here to subscribe !