Eels travel from Mexico to Turkey to breed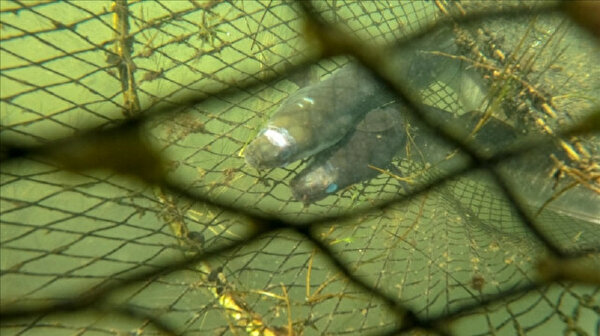 Eels travel 7,000 kilometers (4,350 miles) from Mexico to Turkey to reproduce.
Born in the Sargasso Bay in Mexico, the eels reach Lake Bafa in Mugla province, southwestern Turkey, after traveling for three years. After spending time in the lake, they begin to return to where they came from.
Lake Bafa, once a bay in the Aegean Sea, provides an ideal environment for many endangered bird species to breed and spend the winter.
Eels are one of the mysterious species that choose lakes to breed.
Beginning the journey as a larva, the eels undergo a transformation on their way. Their color turns to glass around Gibraltar and yellow when they reach the Mediterranean. Once they are fully able to swim, they arrive in the Aegean Sea.
Eels, which mainly choose fresh water for their livelihood, reach Lake Bafa, where they can live for a long time, past the Aegean Sea.
They have an interesting lifespan, arriving in the lakes to grow and reproduce after a 4,350 mile journey that lasts three years, and return to Sargasso Bay, where their lifespan ends.
Eels in Turkey mainly live in inland freshwater areas, beginning their return journey usually in winter.
Science, however, has yet to find out how the eels found their route to Turkey – intuitive or otherwise, as many scientists, including Turkish scientists, are researching it.
Speaking to Anadolu Agency, Deniz Coban, senior researcher at Turkish University Adnan Menderes, pointed out that eels, which can reach a length of five feet, choose seas to breed and fresh water to live. .
Referring to their trip to Lake Bafa, he said that the lake, fed by the Menderes River, contains alluvium and is therefore chosen by eels.
Plus, the muddy areas around the lakes present an ideal living space for them, he noted.
Coban, however, pointed out that global warming and drought can negatively affect the eel population.
Those unable to reach freshwater areas would find it difficult to survive, he added.
Also speaking to Anadolu agency, fisherman Mustafa Cay pointed out that eels are not so popular in Turkey and most of the fish they catch are exported.
* Written by Ahmet Gencturk in Ankara.