Cyberknife wins Arkansas Derby, wins classic bid for Cox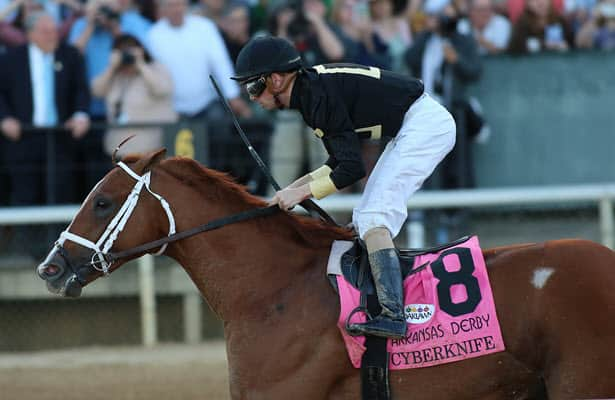 Gold Square LLC Cyberknife capped a huge day for jockey Florent Geroux and trainer Brad Cox with their 5-1 win in Saturday's $1.25million Arkansas derby (G1) to secure a spot in the Kentucky Derby with 100 points.
Geroux and Cox also teamed up to win the $400,000 Oaklawn Mile (G3) with Fulsome and Geroux also won the $600,000 Fantasy Stakes (G3) with Kentucky Oaks prospect Yuugiri.
Despite dropping Geroux on the afternoon parade, Cyberknife was in full swing in the race, trailing pace pioneer Kavod from fourth to splits of 22 and 46 2/5 seconds for the first half mile. He took command on the final corner and retired to win by 2 3/4 lengths on the ultra-regular Barber Road, which placed in all four points races in the Oaklawn Kentucky Derby.
Filly Secret Oath, a 7-5 favorite, was third after a turbulent run.
California shipper Doppleganger finished fourth and was followed by Kavod, Ben Diesel, We The People, Un Ojo and Chasing Time.
#Cyberknife takes the Arkansas Derby (G1) on the Route du #KyDerby with @flothejock for @bradcoxracing.

Watch the #TwinSpiresReplay ?? pic.twitter.com/vOrvadje6e

— TwinSpires Racing ?? (@TwinSpires) April 2, 2022
Cyberknife, a son of Gun Runner, winner of the 2017 Horse of the Year and Razorback Handicap (G3), improved his career record to 3-2-0 after six starts and has now earned $860,000. He paid $13.80, $7, and $3.60.
Cyberknife is now ranked fourth in the Kentucky Derby standings. Barber Road is ranked ninth with 58 points and filly Secret Oath, who is solidly in the pack for the Kentucky Oaks with 60 points, is ranked 22nd for the Kentucky Derby with 20 points.
Only the top 20 point earners can start the Kentucky Derby. Un Ojo, despite finishing eighth in the Arkansas Derby, is ranked 10th with 54 points from winning the Rebel Stakes (G2) and second in the Withers Stakes (G3).
Arkansas Derby Quotes:

Winning Coach Brad Cox, Cyberknife: "Sometimes it works, sometimes it doesn't, okay, like your thoughts. You watch these horses train and you have high hopes. Sometimes they take you, sometimes they let you down. In that case, he picked us up today. We thought he was a good colt.
"He got some good (speed) numbers last time out. I don't really know what happened in the Lecomte – from a first win in the Lecomte, it was just too fast for him. He had Looked great in the Lecomte then straightened up and he was nowhere he got through it So he certainly trained like a big horse and raced like one today.
"I was a little worried that he (Florent Geroux) might have advanced a bit earlier at a steady pace. But, obviously, it worked. Very, very proud of him."
The winning jockey Florent Geroux, Cyberknife: "A great effort with high hopes for him. We always thought he was very talented. Looks like he finally put it together and he's probably not even 100% because he was zigzagging in the lane. I hope it will be a little straighter on the first Saturday in May. But a very talented horse.
Coach John Ortiz, second with Barber Road: "Another winning effort. The distance turned out to be the right angle we were looking for. Obviously, we could still use a little more. I think we got a spot in the Kentucky Derby starting grid.
"Reylu (Gutierrez) did a fantastic job. Again, we still have to deal with our traffic problem, but the horse has guts. You know what, you have to go through traffic in the Kentucky Derby and you need of a horse with guts, I think we've got what it takes and I've got the rider for it.
Jockey Reylu Gutierrez, second on Barber Road: "Well, you have to give (trainer) Brad Cox credit. He knew that horse, Cyberknife, was a real horse the whole time, so you have to give Brad and his thinking credit.
"But for my horse, what a race. There was still traffic. We know the game plan is to get out there, get it out in the clear, stay out of trouble. It doesn't work that way sometimes, but I saved ground both laps and I think that helped us finish the way we did.
"I'm really excited for a mile and a quarter, man. I'm really excited about it. Not many horses do a mile and a quarter, but mine can. It was awesome."
Coach D. Wayne Lukas, third with favorite Secret Oath: "We were overwhelmed today. I made this big move (in round two) and I thought she would keep it going, but she didn't. The race did not go as you expected. It just didn't come together. We got bumped at the start and it knocked her back too far, then she did this monster move (in round two). It's hard to maintain it. She may have run this quarter pretty fast.
Jockey Luis Contreras, third for favorite Secret Oath: "It was a bit difficult at the start. The seven (Ben Diesel) pushed me the whole race. She tried very hard from 3/8 at home. I thought she was going to continue, but she had too much to do.
Coach Rodolphe Brisset, fifth with We The People: "Difficult journey. I mean 22 flat (first trimester), really? Flavien (Prat) just couldn't continue where he was, so he decided to pick up. And, when he resumed, you could see that the horse was not comfortable on the behind. It was just a very difficult trip. It is what it is and we need to regroup and see where it takes us.