30+: Erwan Charpy reflects on his life as a coach as he takes on his new role in Dubai | Topics: Erwan Charpy, Meydan, Dubai Racing Club, Dubai Carnival, Emirates Racing Authority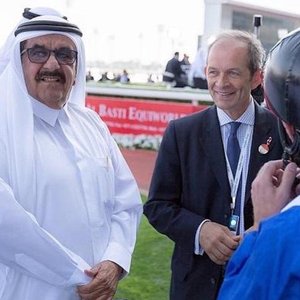 UAE veteran who's part of Dubai's racing fabric talks to Laura King about her three decades in the Gulf state
UNITED ARAB EMIRATES: All good things come to an end, in life and in racing, but it is with few regrets that longtime Dubai-based coach Erwan Charpy closes his nearly 30-year career.
Charpy, 61, has been part of the fabric of racing in the United Arab Emirates long before Meydan Racecourse was even a gleam in an architect's eye. It began in the Gulf in October 1994, when Nad Al Sheba was only two years old and facilities in neighboring Sharjah were so primitive that the ruling sheikh had to position his throne on a patch of sand.
But while Charpy is part of UAE racing history, he is also part of its future, having left training to become an adviser to Dubai Racing Club. Few would be those who would bring more knowledge to the profession, the Frenchman having trained 511 winners, including 11 at G1 level. They were all purebred Arabians, an area in which Charpy excelled, although he also has many group wins to his credit with the thoroughbreds.
As he approaches his new assignment with great enthusiasm, Charpy also wants to reflect on a career that has taken him from his native France to the lower reaches of England and even to the west coast of America.
A rider from the start, Charpy competed in pony racing, show jumping and eventing before taking a job at Kingsclere, longtime home of the famous Balding family dynasty.
"I coached Mrs. Balding's eventing and gave riding lessons to Clare Balding – she even mentioned me in her book," says Charpy, eager to reminisce about his vacation on the French coast.
Three years at Kingsclere
"I stayed there for three years, one as a student assistant and two years as an assistant," he continues. "We had Forest Flower who won the Guineas and Silver Fling who was a very good sprinter, although it was before Lochsong.
A few years later, Charpy moved to America as an assistant to expatriate Briton Neil Drysdale in Southern California; followed by a two-year training under his own name in Chantilly, before Dubai called.
"While I was in America I ran a barn for Neil who had a lot of Gainsborough horses, so I got close to the Gainsborough team," he explains. "We even had Rahy and I was responsible for him when he won a 2nd year at Hollywood Park.
"Later, I had a small stable [in Chantilly] and worked well, but it was just after the Gulf War, so it was difficult to attract Arab owners. Michael Osborne [then chief executive of the Emirates Racing Association] called me and asked if I would be interested in coming.
It was October 1994, two years after official racing began in Dubai – and Charpy was an instant hit.
"I took over from an American trainer who had left around 30 horses but only 15 or 20 were trainable," he recalls. "At that time, the only other coaches were Satish [Seemar]Paddy Rudkin, Bill Mather and Dhruba [Selvaratnam].
"When I got to the stable, all the horses were sprinting, even the ones that were still kind. I just put them the right distance and everyone thought I was a genius, because I had so many winners on a handful of horses! Then I started winning with the Arabs.
"Kiaran McLaughlin said, 'This newcomer from France must know the Arabs' and told the owners to send them to me. I had quite a few nice ones and it was quite fun. We won the Triple Crown with a horse called Hafic du Bac, I think he is the only horse to have won it.
Weigh room who's who
Based at the picturesque green stables, Charpy also hosted a who's who from the weigh-in room through the doors during his tenure. "I was a champion trainer in 2001 when Seb Sanders was my jockey and Pat Smullen was number two," he recalls.
"Wayne Smith was my third jockey and then I had Keith Dalgleish. There was also Willie Supple, plus Dane O'Neill who rode for me for a year before going to Shadwell.
"The Championship was a lot of fun because we were one-on-one with Satish. The season ended much later back then, at the end of April, but all the big jockeys had gone home. I made come Anthony Delpech for a month and he won ten races for me, that's how we won the championship.
There were many other highlights, including when South American star Furia Cruzada won the G2 Maktoum Challenge Round 2 in February 2017, teaming up with Zamaam to give their coach a remarkable Dubai Carnival double. His final season was also successful in some of the rare Pattern races in the United Arab Emirates.
"This year, we finished first and second in the Listed National Day Cup in Abu Dhabi with Moqtarreb and Spirit Of Light", explains Charpy, before coming back much further. "I had Kodiac for a carnival – he won one of four starts at Nad Al Sheba in 2006 – and a lot of fine winners for Sheikh Hamdan."
At that time, racing in Dubai relied heavily on the ruling family sending horses there from Godolphin, of which Charpy was a major beneficiary. However, this modus operandi also worked the other way around, with the trainer acting as a rehab trainer for the superpower.
"They sent me horses they had a problem with," he explains. "One was a very beautiful filly called Cocoa Beach who came from South America. It arrived in April and I returned it to them in January, just ready to race. She went on to win the UAE Oaks and two Grade 1s in America.
"It was good, but when it stopped I didn't have a lot of private owners to rely on and it was a bit difficult. But I liked shaping them for Godolphin.
Thoroughbred passion
In addition to this behind-the-scenes success, Charpy has had many great days with purebred Arabians, none greater than when Manark won the 2015 G1 Dubai Kahayla Classic – the Arabian horse version of the Dubai World Cup. Nonetheless, it was the somewhat enigmatic Versac PY that scored highest in Charpy's affections, largely due to his celebrity connections.
"Versac PY were incredible as they won two Group 1s and finished second in seven others," he said. "He was just amazing, that old horse – I loved him, he was a character. He even posted me on Kylie Minogue's social media when she came to the stable before playing the Cup of the world of Dubai!
"It was the same year that Manark won and she posted congratulating us which drove my kids crazy because they said 'you never do anything on social media and now you're getting retweets from Britney Spears! '"
There may be fewer celebrity encounters in his new role, but Charpy is eager to help guide Dubai Racing Club through what feels like a transition period. The new board, headed by Sheikh Rashid Dalmouk Al Maktoum, is only in its second year.
"I am grateful to have the opportunity to continue contributing to the future of Dubai racing," he said. "But I cannot leave training without thanking all the owners who have entrusted their horses to me and who have contributed to the great success of the Green Stables.
With former assistant Ali Al Bedwawi now in charge, the success of Les Ecuries Vertes may well continue, but one thing is certain: for a while it will seem strange without Erwan Charpy at the helm.
• Visit the Dubai Racing Club website
From Surfers Paradise to Downtown Dubai: Introducing Michael Costa, the Newest Recruit in Training Paradise
Melbourne Cup favourite: Why James Ferguson dreams of Flemington triumph with Deauville Legend
Truly unique – and uniquely well-funded: Welcome to Kentucky Downs, America's most distinctive racetrack
What They Think: Eddie Delahoussaye – I don't like rules being made by people who don't know anything about the game
See the latest TRC World Rankings for Horses / Jockeys / Trainers / Bulls